Luxurious Living in a Smart Condo in Manila
This high-rise condo in Katipunan places you at the heart of the city.
Experience living in luxury at One Katipunan Residences.
Artfully designed and carefully planned, this exceptional residential edifice gives residents what they look for in a home – beauty, comfort, convenience, and a place they can be proud to call their own.
One Katipunan Residences is a high-rise, mixed-use condominium that cuts itself apart with its unique Italianate architecture at Quezon City's premier avenue – Katipunan Avenue.
It is composed of prime residential units – all with balcony, providing spectacular views at every horizon.
One Katipunan Residences has six (6) basement floors for convenient parking, and commercial areas at the lower ground, upper ground and second floors with retail stores to cater to the needs of its residents.
With this affordable condo and its accessible location in Katipunan, you'll want for nothing more.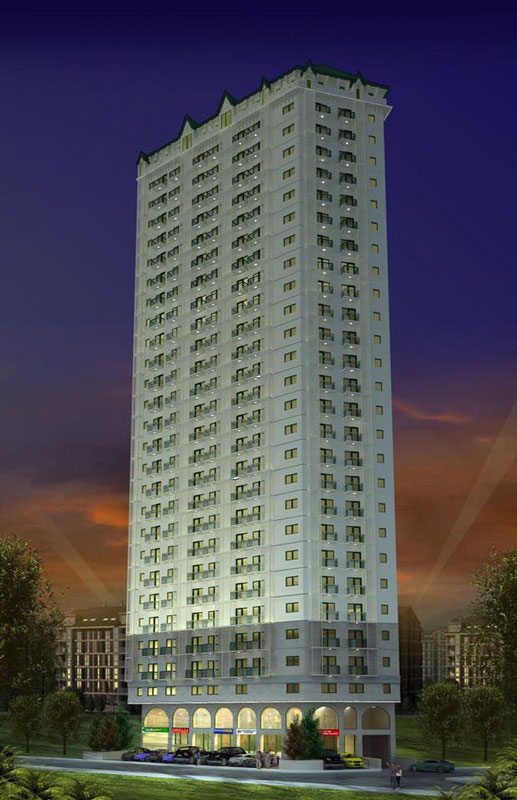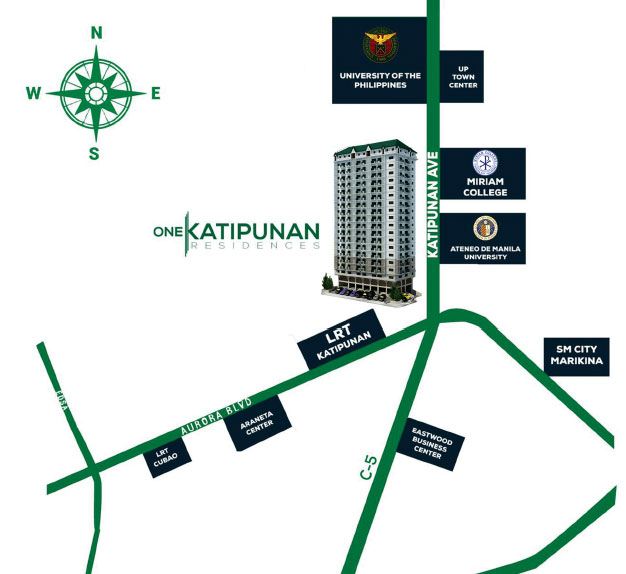 One Step Away From It All
Convenience is something everyone looks for these days, and this is because every minute of your day counts. This is why One Katipunan Residences is strategically located in an area that gives you the convenience you seek to maximize every minute of your day.
You will find that this building is right in the middle of it all – schools, malls, office buildings, and commercial institutions – making it the perfect choice for families, career-driven individuals, business owners, and just about everyone.
It is near numerous public transportation hubs, like the LRT Line 2, and major thoroughfares, like the C-5 Road and Aurora Boulevard. These condo units for sale in Katipunan are also a short distance away from some of the most prestigious schools in the Metro, such as Miriam College, Ateneo de Manila, and the
University of the Philippines in Quezon City.
Malls, shopping centers, commercial districts, and business centers are also close by, with the Riverbanks Mall, UP Town Center, and SM City Marikina, just a short drive away.
Who says luxury cannot be made affordable? One Katipunan Residences makes sure that you get the kind of well-appointed residence you will love to come home to day after day, with what we call Affordable Luxury.
Aside from these, all homes also come with their own balconies, giving residents access to the majestic views of the city around them.
Common areas are spacious and allow for easy access to the elevators and the homes on every floor.
The bank of three elevators that will convey residents to and from their floors can be found near the utility closet area, and has a lobby lounge where residents can wait in comfort for the elevator to arrive.
All these areas make this smart condo one of the best investments in the QC area.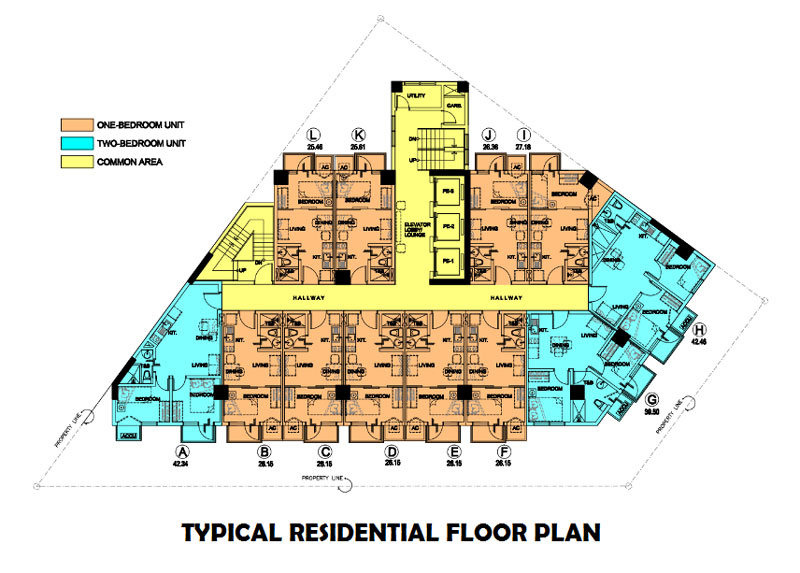 Here at One Katipunan, a single bedroom unit won't leave you short on space. Complete with premium and above average turnover materials, everything you need in a place of your own is here.

Perfect for families, One Katipunan two bedroom unit is a space you will love coming home to every day. This unit offers a private sleeping area for families who need their own sleeping havens. We offer larger living space and premium materials.

All units of One Katipunan Residences are smart homes with keyless entry and support of Google Home units. Every unit has a laundry cube and a balcony to provide maximum light and ventilation.
Enjoy these Amenities at One Katipunan Residences
From cozy bedroom units to keyless entry technology, find out what makes One Katipunan Residences a luxurious but affordable condo.
Hang tight! We're building your next condo in Katipunan. You could be living here soon.